Valentines Love Ride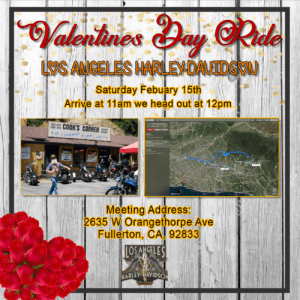 Join us for a relaxing ride up to Cooks Corner on February 15th, a day after Valentines Day.
We will be meeting at the dealership in Fullerton at 11AM, grab a coffee make some friends, then we will head out at 12pm once everyone has arrived for the Love Ride.
We will be riding through the canyons past Irvine Lake, through Limestone Canyon Nature Preserver and towards Cooks Corner!
Invite your friends and family and make sure to let us know if you'll be going! See everyone then!